Handmade, high quality, natural products
Decorate your home and bring them coziness

Quality
Quality is our top priority. All the designs are crafted using a combination of traditional technologies to produce top quality, long-lasting linen goods that are loved worldwide.

Handmade
All Linen Spells products are handmade. We are a small family business from Lithuania and we've poured our souls into every single item we create. We have been working with linen for many years and have accumulated a lot of experience.

Design
Every single product in our shop is unique and special. Linen products perfectly complement the interior of the home. Among other useful properties of linen, such products are easy to maintain and also look extremely aesthetically pleasing.

100% Linen
All our products are made of 100% Lithuanian linen. Linen is known as the strongest natural fiber so it's very long lasting. Also, linen does not cause any allergic reactions and is a natural antiseptic, so linen products are suitable for everyone.
This is such a wonderful set. The colour is phenomenal, and they really are so soft for linen. I was worried that the pillow cases would be too rough to sleep on but they are incredibly comfortable! The set gives such a relaxed, luxurious feel to the room. The shop owner was very pleasant to deal with and answered any questions or concerns I had right away, as well. Highly recommend!
I LOVE ours. This is the 4th bedding set I have purchased through LinenSpells. Now everyone in the family has a gorgeous linen bed. I couldn't be happier with the quality of the product. We get asked all the time where we got ours.
I'm obsessed with LinenSpells. I already have a duvet and apron from them and I absolutely adore both, now I get to add this table cloth to my list! Quality is great, color is exactly what I was expecting it to be, and it lays so nicely on my dining table. I will be buying another!!
I absolutely love my new duvet!! It is beautiful and the craftsmanship is just fantastic. I can tell care was put into the creating of this duvet. The longer I have had it, the more I love it. I'm looking forward to it being warm enough to remove the comforter and just using the duvet cover.
I decided to add these napkins to my order at the last moment, and I'm so glad I did! They are great-looking and add so much to the look of my table. High quality items from this shop.
Incredibly happy with our linen napkins. They are so soft and the color is gorgeous. Sellers are very helpful and shipping was on time. Items exceeded my expectations and I will absolutely be ordering from them again.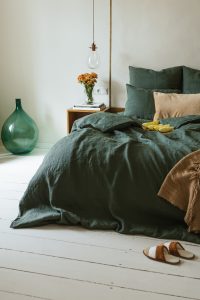 Linen bedding buying guide: what do you need to know? We all agree that a good night's sleep is vital, but how can linen bedding contribute to it? Linen products are integral to high-quality comfort
Read More »